My Feelings
assalamualikum semua .
selamat malam ;)
esok ada kelas tambahan sejarah dengan cikgu Dalilah .
semoga semua berjalan dengan lancar esok . insyaAllah
Ya Allah, permudahkanlah segala urusanku :)
My Feelings ?
yeah ~ absolutely yes ....
I miss him ,
I wait him ,
I want him ,
I need him ,
I love him
and
everything is just him .
I'm tired to continue the ' struggle ' is but I do not want to stop here. I really love him and I would like to go to the next phrase !
Even I know that I will hurt myself .
Why is love and affection is so painful !
Saya sayangkan awak,
tapi perasaan saya sentiasa ada terhad .
jaga ia sebelum ianya pudar untuk awak ;')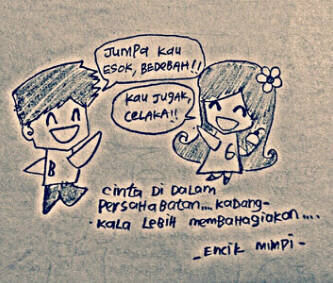 Labels: Love Story